What is special about Sadhi Machinery's blow Moulding machine?
Sadhi machinery Plastic Products is a well-known company which manufactures blow moulding machines. This machine makes the different capacity of plastic bottles stars from 50 ml to 20 Litres. There are many variants of these machines are available like single or double stations and with or without De-Flashing models in 50 ml blow molding machine. This machine can produce 450 bottles per hour of 50 ml bottle. Sadhi machinery provides a wide range of customization of machines according to a customer. Sadhi Machinery is well-known Blow Molding Machine Manufacturer in India.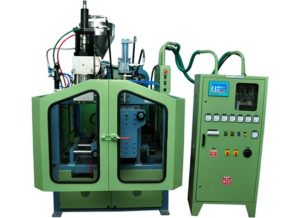 Special About SMP – Blow Molding Machine Manufacturer
All the machines have different options available like single or double even triple head options are available. There is bobbing extruder available and also have useful feature of view strip for plastic bottles. There is also hot wire cutting is available and with the help of angular blowing attachment and can get an exact shape as per requirements. In the blow moulding machine there is a feature called parison control which regulates the flow and quantity of plastic to require in blow molding operation. There is a big screw in an extruder to continue operation of blow moulding.
The machine is made in Sadhi machinery are fully automatic and with the help of latest technology, it is easy to operate. The machines are also able to manufacture plastic toys. The Sadhi machinery is leading blow molding machine manufacturer with the constant research and develops new technology to increase the capacity and easy operations. These machines are made with durable materials and have strong build quality with added safety features. The machine is equipped with automatic temperature control unit which maintains the temperature of the material during manufacturing. These machines are fully automatic and integrated with the latest technology. The advance intelligent function module requires programming for once and gives flawless production. With the help of cloud web communication function makes easier communication between manufacturer and customer.
The manufacturer can easily solve the problem from the facility with the help of cloud fault diagnosis function. With this feature, customers don't have to bring their machines to a facility. The statement record function records the overall performance of the machine from the production of bottles and utilizes the data. This makes easy for an operator to not to check their machines continuously. The cloud fault alarm rings and blinks a light when a machine has problem or breakdown. There are wide ranges and shape plastic bottles can be made with blow molding machines.
The bottles are made with this blow moulding have the strong build quality and long lasting. The household plastic items can be made with blow moulding machines. There is an R&D unit in the same facility. There are latest and precise tools are used in Sadhi machinery. The high-quality standards are maintained in the facility. We provide best after-sale service in all the states of the country. Our technicians also provide training and help in a setup of production. The Sadhi machinery not only supplies machines in the country but also exports successfully in other counties like Nepal and South Africa. The Sadhi machinery blow molding machines help in your business expansion.