Fully Automatic Blow Moulding Machine Features
The Sadhi machinery Plastic Products are famous for their fully automatic blow moulding machine. The fully automatic machines help in production flawless and didn't require constant monitoring. These machines are easy to operate and once it is install the company technician give training to the workers and help in production. The latest technology makes these machines fully automatic. The parts are used in machines are precise and bought from well known manufacturers. There are highly trained workers who assembled these and have expert engineers to ensure that these machines work perfectly. There are testing units to perform different tests on the ready product.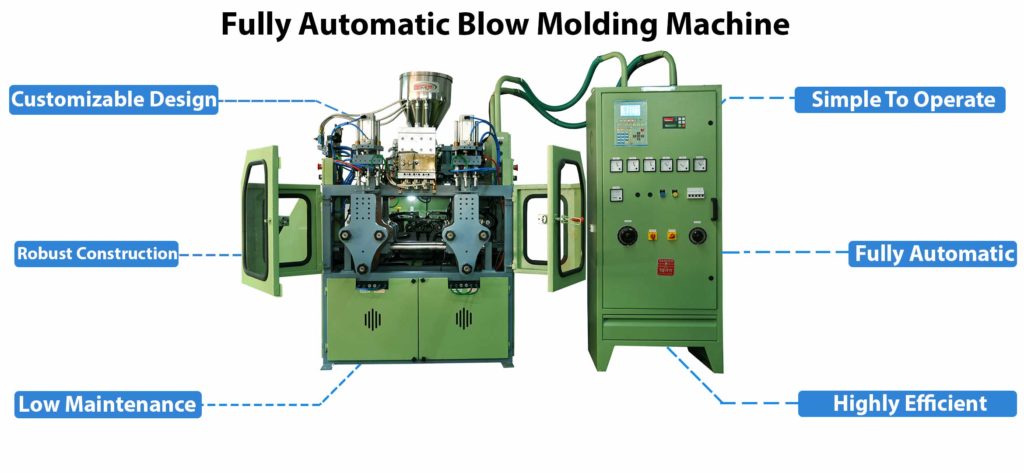 The R&D department is continuously research in development of machines. These Automatic Blow Moulding Machine have fully automatic de-flashing option to remove access material from a finished product. The melted material cut by hot wire cutter and poured in prison. After that air flows into it and inflates up to the mould size and cools down it. When the product is sufficiently cool the mould is open and passes for the next process. These machines are customizable with the single or double stations and single and double head options which increase the production capacity. The overall build quality is super strong and long-lasting. The parts and the design make this machine durable. These machines have very low maintenance and its feature of cloud fault diagnosis function module automatically scan the machine and find the fault by itself which save time of technician and start production after fix the problem. The Sadhi machinery is leading manufacturer of blow molding. These machines have intelligent operation function module makes the operation easy for operator. With the few settings workers are expert in operations and maximize the production. The cloud fault alarm system rings and blink lights when the machine stop working which is very important feature.
These machines have a safety feature which helps to prevent accidents.  The blow moulding machines are highly efficient and give maximum production and have low power consumption. These machines passed through various quality checks. After that it reaches to the customers to ensure that they will get best product. There are range of materials can be used in process and the product is strong and durable. There are range of products can be made with blow molding machines.
These products are used in houses as well as workplaces. There are number of single body hollow plastic toys can be made with this process. The reason behind the wide use of blow molding machines is its easy operations and highly cost-efficient. The automatic blow moulding machine requires less action to complete process and it is fast than conventional methods. These machines can work up to 24 hours and 7 days. The mould is made direct contact with the melted plastic and has to be durable. For that reason is made with high grade M.S which is durable than other material.