About Us
In 2009, Mr Paresh Patel started Sadhi Machinery Plastic Products at Ahmedabad (Gujarat, India). We "Sadhi Machinery Plastic Products" are engaged in manufacturing, exporting and supplying the finest quality range of plastic blow moulding machine. The premium and wide range of blow moulding machine are
developed by making use of premium grade raw material, obtained from reliable vendors. Our blow moulding machines come with features like optimum performance, low maintenance, robust construction and rust proof nature.
Sadhi Machinery manufactures a wide range of blow moulding machines, these machines capacity from 50ml to 5 litres. These blow moulding machines manufacture a wide range of plastic bottles like HDPE bottles, PP bottles, PET-G bottles and these machines also manufactures toys also.
Sadhi Machinery operates from well-equipped machine & facilities (2,000 SQM) by utilizing Auto CAD & Solid Works Engineering software & modern methods of quality standards. Sadhi Machinery has developed its own R&D centre and has an experienced & dedicated team, engineers & skilled workers.
Sadhi Machinery is the fastest growing engineering company and has always played an important role in bringing globally latest technology at cost effective proposition & working as a forward-looking and innovative project partner for their customers.
We manufacture machines with a production capacity of 20,000 to 25,000 bottles per shift. We make a wide range of blow moulding machines starting from 5.5 lakh and to varies as per function and as per head capacity.
Sadhi Machinery is not doing just an equipment supply activity. It is a perfect solution that empowers you to develop, innovate and prepare a product portfolio. We look forward to a relationship that will help you turn your amazing ideas into great products that talk volumes about your business.
Vision
"Through the extensive achievements of our highly-committed team, we strive to remain the premier choice for rapid plastics solutions. We will continue to work towards making a difference in the lives and future of our employees and our communities while advancing the success of our customers."
Mission
"Our mission is to exceed the expectations of our customers by delivering fast, reliable and superior solutions that are unsurpassed by our competition.To constantly improve the function and performance of our products through rigorous research and development so as to cater to the varied requirements of our clients."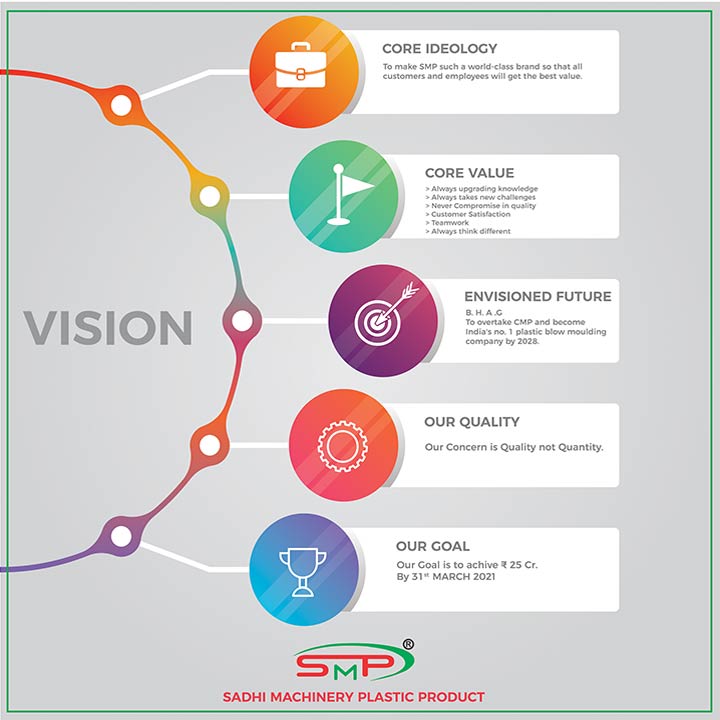 Our Philosophy
Innovation
A customer has always been and will be our top priority at all times. It is their requirements that drive us towards innovating better and better products year after year.
Efficiency
Design enhancement to reduce energy consumption, so as to make the end product more cost effective.
Reliability
Reliability is one of our strengths at Sadhi Machinery Plastic Products and you can trust us just as you would trust a close friend. Your trust is our reward and we will leave no stone unturned in earning the same.